I came across this fancy hardcover book that absolutely makes my heart sing. When I am reading this book and looking at the pictures, I want to dress up in a frilly dress, top it off with a flowery hat, and even wear bright colored lipstick. I return to the book again and again to try out some recipes for sun teas and lemonades, to make butterfly place mats, and to make fancy tissue paper corsages for myself and my granddaughter.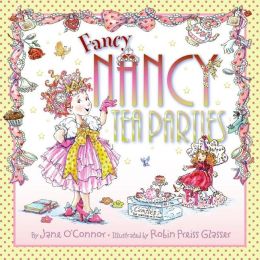 Last Christmas, I bought Fancy Nancy: Tea Parties written by Jane O'Connor and illustrated by Robin Glasser as a gift for my granddaughter. The colorful cover with its glitter, I assure you, is an indication of the fun to come when you read this book. Looking at the delightful and colorful illustrations is a joy.
In the book, Nancy doles out plenty of good advice and explanations e.g. she explains that "casual is a polite way of saying plain." When attending Fancy Nancy's tea party you are advised to dress up in an "ensembles"-- nothing plain about such an outfit. Another sage advice is to compliment the hostess by saying things like "it's yummy."
What makes the book extra special is also the French that is used -- things sound fancier when using that language according to Nancy. Of course, you must call each other "darling." It's good advice that we all can take to heart.
My granddaughter and I have spent many hours making the simple but fun and fancy crafts projects mentioned in the book. I could tell you how to make them, but I would like for you to go out and get your own book which is actually aimed for the 4 to 7 year old set among us. Gloria Steinman (I think it was her) once said that you are never too old to have a happy childhood.
In addition to the crafts, there are delightful and useful recipes to make for a fancy tea party or any other event. There are Nancy's open faced Nibblers, Crunchy Munchy Crudites (vegetable platter). How about Ants on a Log and Ladybug cookies?
While doing the A to Z Blog Challenge, I happened upon a lady blogger who wrote that you must drink fancy tea in the best china in the best china possible in a nice setting with napkins and flowers. i loved it. Tea anyone?
The Fancy Nancy: Tea Parties made it to number one on the New York Times best selling list and it is rather affordable at $12.99.
Thank you for visiting my humble blog. Please, leave message.